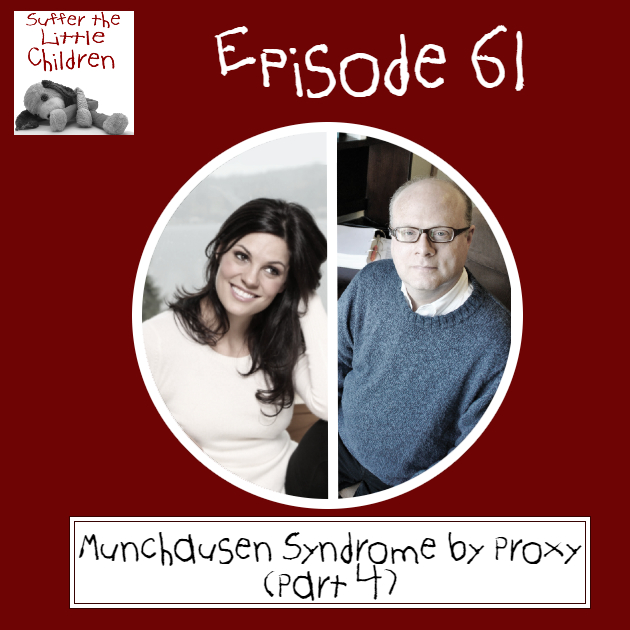 In the first three episodes in my series on Munchausen syndrome by proxy, I searched for answers about this commonly misunderstood form of child abuse while I discussed multiple cases of children harmed or even killed by mothers who sought attention for themselves and thrived on drama, heedless of the damage they did to their children. During my search, I came out with more questions than answers!
For this episode, I welcomed two very special guests to help me answer those questions. Author Andrea Dunlop drew from personal experience with a family member to write her latest novel, We Came Here to Forget, which centers around a woman whose family was torn apart by Munchausen by proxy. Dr. Marc Feldman, who I have quoted multiple times throughout the series, is an international expert in the field of factitious disorders whose credentials are too numerous to list in the show notes! 
I was honored to have an in-depth, fascinating conversation with both Andrea and Dr. Feldman, who provided their uniquely qualified perspectives and expertise on this baffling topic. Don't miss this episode!
This is part 4 in my series about the inexplicable phenomenon of Munchausen Syndrome by Proxy.
Links:
Andrea Dunlop's novel, We Came Here to Forget: https://www.amazon.com/We-Came-Here-Forget-Novel/dp/1982103434/
Dr. Marc Feldman's latest book, Dying to Be Ill: https://www.amazon.com/Dying-be-Ill-Marc-Feldman-dp-1138063835/dp/1138063835/
Dr. Feldman's website: https://www.munchausen.com/ 
Andrea Dunlop's website: https://www.andreadunlop.net/ 
Huge thanks to today's sponsors:
Gemmist makes salon-quality hair care products backed by science, giving you personalized shampoo and conditioner recommendations based on your hair data. Use my code CHILDREN to get the best hair of your life and save 20%! Click here to take their hair quiz: https://gemmist.com/?promo=children&utm_source=Podcast&utm_medium=link&utm_campaign=Spring
Smile Brilliant provides teeth whitening and oral care products customized just for you! Use my coupon code CHILDREN to save 30% by clicking here: https://www.smilebrilliant.com/?coupon=children#podcast
Photo for today's cover image: Kristine Wook on Unsplash
Photos related to today's episode can be viewed on Facebook and Instagram. 
You can also follow the podcast on YouTube, Twitter, Tumblr, TikTok, and Pinterest. My Linktree is available here: https://linktr.ee/stlcpod 
Visit the podcast's web page at www.sufferthelittlechildrenpod.com.  
Please help make the show my full-time gig to keep the weekly episodes coming! By supporting me on Patreon, you'll also access rewards, including a shout-out by name on the podcast and exclusive gifts! 
This podcast is researched, written, hosted, edited, and produced by Laine. 
For more stories like this one, visit www.sufferthelittlechildrenblog.com. 
Music for this episode is from www.AudioJungle.net. 
Follow Suffer the Little Children on Apple Podcasts, Google Podcasts, Stitcher, Spreaker, Pandora, Spotify, iHeartRadio, YouTube, or your favorite podcast listening platform.